Emmeline Pankhurst being arrested at Buckingham Palace, 1921
My daughter's been in rehearsals morning, noon and night for the last 3 months for a production at
the Egg Theatre in Bath
. I missed the first two nights because I was at Paris Photo but I dashed back to catch the final night.
Her production was called Hear Me and was part of a collection of 4 great plays called The Eleventh Hour, all with a first world war connection. Hear Me was a devised play in which the cast relived the roles that women have played in the 20th and 21st centuries with a focus on anti-war movements.
It was amazing. Most of it was in mime, there was a rolling projection of moving images showing demonstrations, strikes and full on conflict involving women. Greenham Common, the Mothers of the Plaza del Mayo, Palestinian women fighting the British, Germaine Greer, Malala, it was all there It wasn't sentimental. It was anti-war with a strong, feminist message.
There were songs. All the Single Ladies was recontextualised as a hugely sarcastic piece from the Roaring 1920s complete with a brilliantly sarcastic line of chorus girls mocking the lyrics with every hip and finger flick and ooh, ooh, ooh.
A Fordist production line of female identity was created with a Kraftwerk-esque soundtrack that took identity into every corner of 20th century history. The costumes ranged from sexualised glad-rags to utilitarian jumpsuits and dungarees. All the bases were covered; suffrage, employment, sexualisation of teenage bodies, gender identity, eating disorders, sexuality. Experimental, evocative and with a clear message. It was brilliant and they had the audience in tears by the end.
Funnily enough, at Paris Photo (which I really, really enjoyed - and more of that later in the week), there was lots of work that focussed on the same things; gender identity, sexuality, eating disorders, the body.
There was work on show that was made to be progressive and challenging, but at the same time there was reactionary work that focussed on those things in an opposing way. The message is constantly changing so one's brain is flip-flapping here and there in a quite confusing manner (especially if one is trying to see everything in a couple of hours - which I was), and because it's Paris Photo, the context of production is often rather obscured.
But confused and hurried as I was in the Grand Palais, there were a few things that grabbed my attention for a longer span. And the project that grabbed me most was a kind of All the Single Ladies in photographic form. It was the story of the man who wouldn't marry his mistress, it was the diary of an affair.
Margret – Chronik einer Affäre
(Margret - Chronicle of an Affair - exhibited at the Suzanne Zander booth) showed the obsessive visual documentation of that Gunther K., a Cologne businessman, made of the love affair he had with his secretary Margret from 1969-1970.
The pictures are polaroids and are direct and straightforward. You see Margret at the hotel, getting undressed, getting changed, on the street. Nothing too surprising there. But the pictures were in a suitcase that was found during a flat clearance. Also in the suitcase were documents. and other ephemera These are what make the pictures so very interesting. There are receipts that record the prices of hotel rooms, notes that remember the sex they had, how long it took, the contraception used and so on. It is obsessive stuff. The suitcase came complete with other bits and pieces; hair, fingernails and scabs for example!
We've all been there.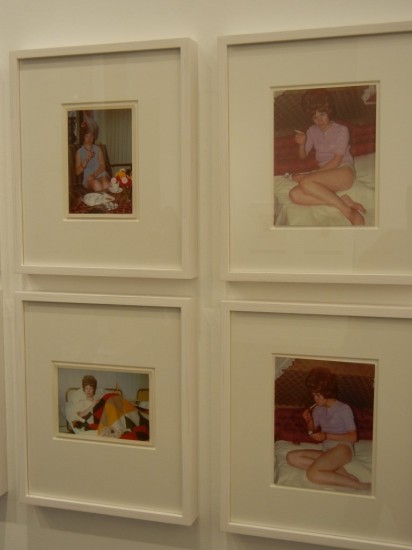 Anyway, the affair broke up when it was clear to Margret that it was only an affair, that Gunther K. wouldn't be marrying her (I think). He liked her, but not enough to put a ring on it!
Which
completely ties in with my daughter's production at the Egg- it's All the Single Ladies given an unreconstructed 1960s twist.
The pictures were part of a show at the gallery booth of five ouevres that
"...
lure the spectator involuntarily into the role of a voyeur." Considering that Morton Bartlett and Miroslav Tlichy are in there as well, the idea that the spectator is being lured in 'involuntarily' is very gentle.
I found the voyeurism to be completely voluntary. Isn't that what photography is all about - voyeurism. Looking. Enjoying. Being fascinated in some way, having a story told to us. I'm never quite sure how you're supposed to look at pictures, or films, or plays, or anything really, without being voyeuristic.I wish somebody could explain that to me sometime. No, I don't.
Anyway, it is a great story that raises questions that I'm still waiting to be answered, that add a layer of mystery to the images. It's not a fully realised story and that is what makes it so three-dimensional. Margret – Chronik einer Affäre is
also available in book form. It's only in German, mind, but after a few days of hearing people roll through Spanish, Italian, French and German at the flick of the tongue, I think I could manage that.
More on Paris later in the week.