So where do you get your ideas from? can be an awkward question for some artists.
But not for Grayson Perry. I saw his
Vanity of Small Differences tapestries
earlier this year and the link to Hogarth was put out there for all the world to see. He's very transparent on where his images come from and they really are quite wonderful when transposed onto a 10 foot length of textile. The ideas are direct and actually very obvious, but Perry shows that the obvious is a great subject for making powerful and moving art that is both personal and political.
That obviousness was especially apparent in
All Man, a series of programmes in which Perry
met with cage fighters, disaffected young men, and
bankers
- and created art based on the masculinities he encountered; their hopes, their insecurities, their emotions, their fears. Most of the bankers didn't like that but the reactions of some of the other men in the series was really quite touching and revealing.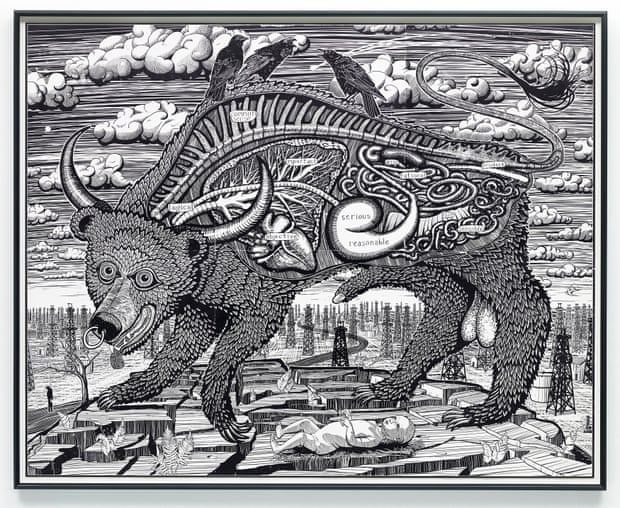 The first episode, on fighters, was especially touching because it went beyond the cliches to look at the loss of working class male identities and the depression and suicide that follow. There was a directness and an honesty and a tenderness to Perry's approach and this resulted in some touching introspection both by Perry and the people he talked to.
The end result of each episode was a pair of artworks - two-dimensional, one three-dimensional, with the most touching being those from the first episode; a Perry version of the union banners (which Perry described as one of the great forms of folk art) carried at the Durham Miners Gala, and a pot
that featured a picture of Daniel, a young man who'd killed himself out of the blue at the age of 30. The picture was of a tattoo one of Daniel's friends made after his death. There was a deep sadness here, of a man who had died because of his maleness, because of his silence, because of his inability to cope with being a man in a place where being a man has lost its roots in home, family and especially labour.
So where does Grayson Perry get his ideas from? From the people that he meets, from the world that he sees, and from a deep emotional intelligence that goes beyond face value and always looks for an added dimension.
Read a review of episode one here.
See all the episodes here, if you're in the UK.