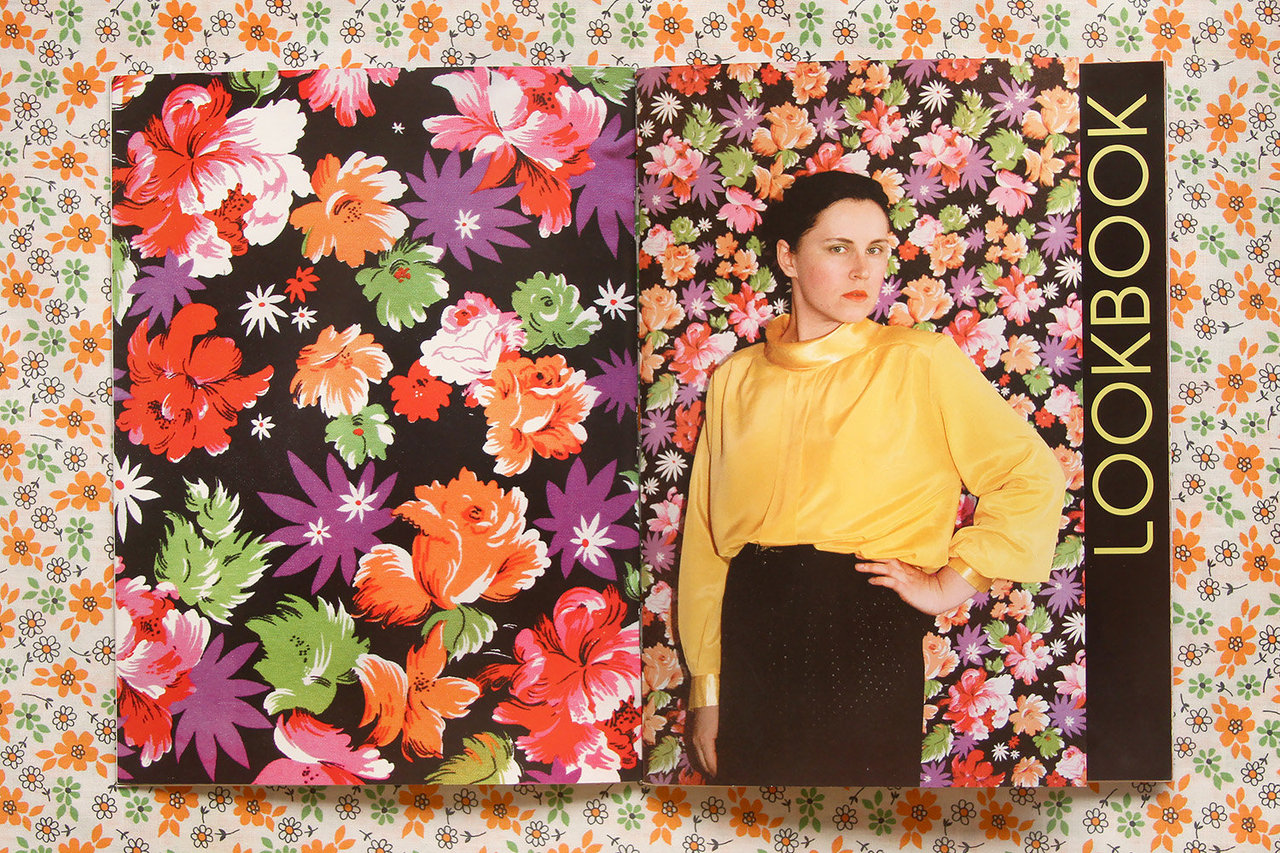 Lookbook by Anastasia Bogomolova
is a fun publication! It's a book of fashion pictures. It shows Bogomolova wearing the clothes her mother and sister used to wear in the 1980s and 1990s, in the days when shopping was done at Soviet department stores or through patterns found in fashion magazines, in the days before the world was taken over by the high-end/low-end shopping polarities of Armani and H&M.
When she was a child, Bogmolova used to dress up in these clothes, and now she does so again for the purpose of the book. For each outfit she poses against a florally papered wall and goes through the gamut of the catalogue emotions. There are slightly opened lips to go with the 'tender green silk' holiday dress, hands on hips for the 'youth dress from silk with a black and white print', and the badass eyes over shoulder for the 'jacket from synthetic knitted cloth made in Japan,'
There are inserts (the book is designed by Julia Borissova) from old fashion catalogues, and they are the inspiration for the glorious cheesiness that combines with a certain nostalgia for the childhood of which these clothes form a part.
It's a fun book then, with biography mixing with some social and fashion history. It's softcover, bound with staples, and the inside cover is a replica from an old pattern book, and you get a free poster that you can stick on the wall. I like posters. The pictures themselves are as artlessly shot as they are posed, but I guess that's part of the fun of the experiment. It's not entirely consistent in some ways, the wallpaper works but is a slightly overdone motif, and the message and the chronology are elements that you could pick at. But that's not the point of the book, or this blog. It's not operating in that critical world. Not much photography does.
Lookbook is operating in a world where dry humour is the modus operandi. And that's a good thing. There's seriousness in her intent, and the tactile qualities of the book take us onto a sensory plane. All the time there is a little glint in Bogomolova's eye, part of the return to her childhood that this book has taken her to, and also perhaps part of her understanding of what it was like for her mother and her sister to be women back in the day. The nostalgia is personal rather than political and is linked to her experience of being a woman in contemporary Russia. What remains the same and what has changed? Not much perhaps.
So all in all, it's a lovely book.
Buy Lookbook here.